Published August 31, 2016
Are you or someone you know a high school sophomore or junior with an interest in creative writing and poetry? Consider entering the annual Nancy Thorp Poetry Contest for young women, hosted by Hollins University. Participants may submit up to two poems on the topics of their choice; the poems are due mid-fall with a notification date in late winter. Keep reading for more details…
Nancy Thorp (Hollins class of 1960) was a young female poet, whose works have been preserved in her posthumously published collection A Face Upon the Sun. At only twenty-four years old, Thorp died in an accident and, overcome with grief, her family decided to honor their young poet by establishing this contest. The first contest occurred the year following Nancy Thorp's death, in 1963, and has consistently sought to inspire and foster new generations of female poets since then.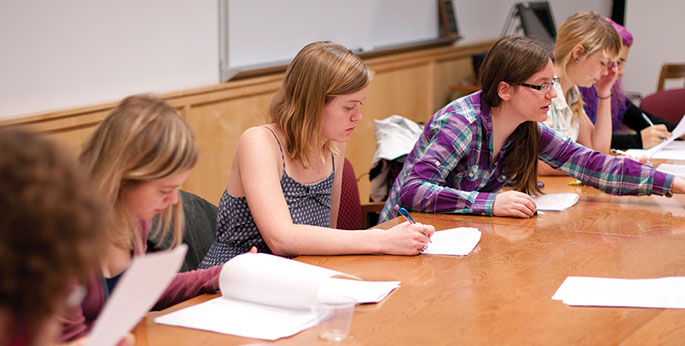 As the contest approaches its fifty-fifth anniversary in 2018, there are there are "more and more submissions every year" as well as, "more and more geographical diversity" according to Thorpe Moeckel, a faculty member in the English and Creative Writing Departments at Hollins and a contest judge.
Hollins faculty and students review and judge the submissions, selecting one first prize winner and six runners-up. "All of the 1000+ poems are read and reviewed by 3 different readers. There is a lot of quality. It takes a long time," remarks Moeckel.
"Once the finalist list of 25-30 is narrowed down, a group of 40-60 students and faculty convene in a big room and have an open judging, with a lively, sometimes heated discussion of each of the finalists, the poem's merits and faults," explains Moeckel.
Moeckel believes that contest judging is eye-opening and important for student writers, as it "gives them an insider view of how much talent is out there and also how often arbitrary contests results can be."
Although there is some stiff competition, the prizes are worth it. Runners-up receive $25, publication in the Hollins literary magazine Cargoes, and a $1,000 scholarship in Creative Writing if the student decides to attend Hollins. The first place poet receives $200, publication in Cargoes, and a $5,000 scholarship, in addition to tuition and housing costs for Hollinsumer creative writing program. Hollinsummer is Hollins University's week-long summer program for young women interested in creative writing, theater and performance, and/or horseback riding.
For complete details about the contest, click here.